In Memory
Pete Remmert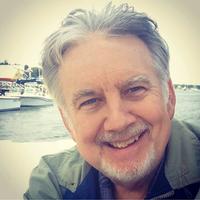 Robert "Pete" Remmert, age 69, of San Antonio, Texas passed away on September 22, 2019 in Raleigh, North Carolina.

The Rosary will be on October 7 at 9:30 AM followed by a Funeral Mass at 10 AM, both at Holy Spirit Catholic Church. 8134 Blanco Road, San Antonio, TX 78216. Afterwards, the family will have a private interment of his ashes at Our Lady of the Atonement Catholic Church.

Pete was born in San Antonio to Erwin and Roberta Remmert on March 10, 1950. As a child of an Air Force family, he grew up in Texas, Libya, Japan, Washington DC, and Missouri. He graduated from MacArthur High School in San Antonio and had a career in television that took him to Colorado, Pennsylvania, Tennessee, and back to Texas. He was most happy when he could drink cappuccino on the rooftop balcony of the Casa di Santa Brigida in Rome, a city he loved and visited frequently.

His interest in the traditions and doctrine of the Catholic Church inspired a particular passion for studying the Shroud of Turin and he gave many educational talks about its history and meaning. Additionally, Pete's hobbies included aviation (he got his pilot's license as a teenager), guitars, space, music and songwriting, and the lore of the Alamo. His enthusiasm inspired many people to pursue careers in these fields. His love of ice cream was legendary and he may have singlehandedly kept Drumsticks in business. And you would not spend a minute with Pete without hearing a joke.

Pete passed away peacefully from complications of Parkinson's Disease, and surrounded by family.

He is preceded in death by his parents and by his brother, Travy.

He is survived by Christine, who was married to him for forty-four years, his children and their spouses – Camille (Rob) Di Maio, Paul (Sarah) Remmert, and Catherine (Brian) Vermeulen. And by his grandchildren, Claire, Gina, Teresa, Ashley, Vincent, and Corey. Along with his siblings Melissa (Bob) Wittman, Fred (Tracy) Remmert, sister-in-law Cheryl Remmert, and beloved nieces and nephews. He also leaves behind his beloved dog, Pearl.

In lieu of flowers, please send donations to Allied Women's Center, 102 Marshall Street, San Antonio, TX 78212.